Form a Team!
Multiply your impact, multiply your fun!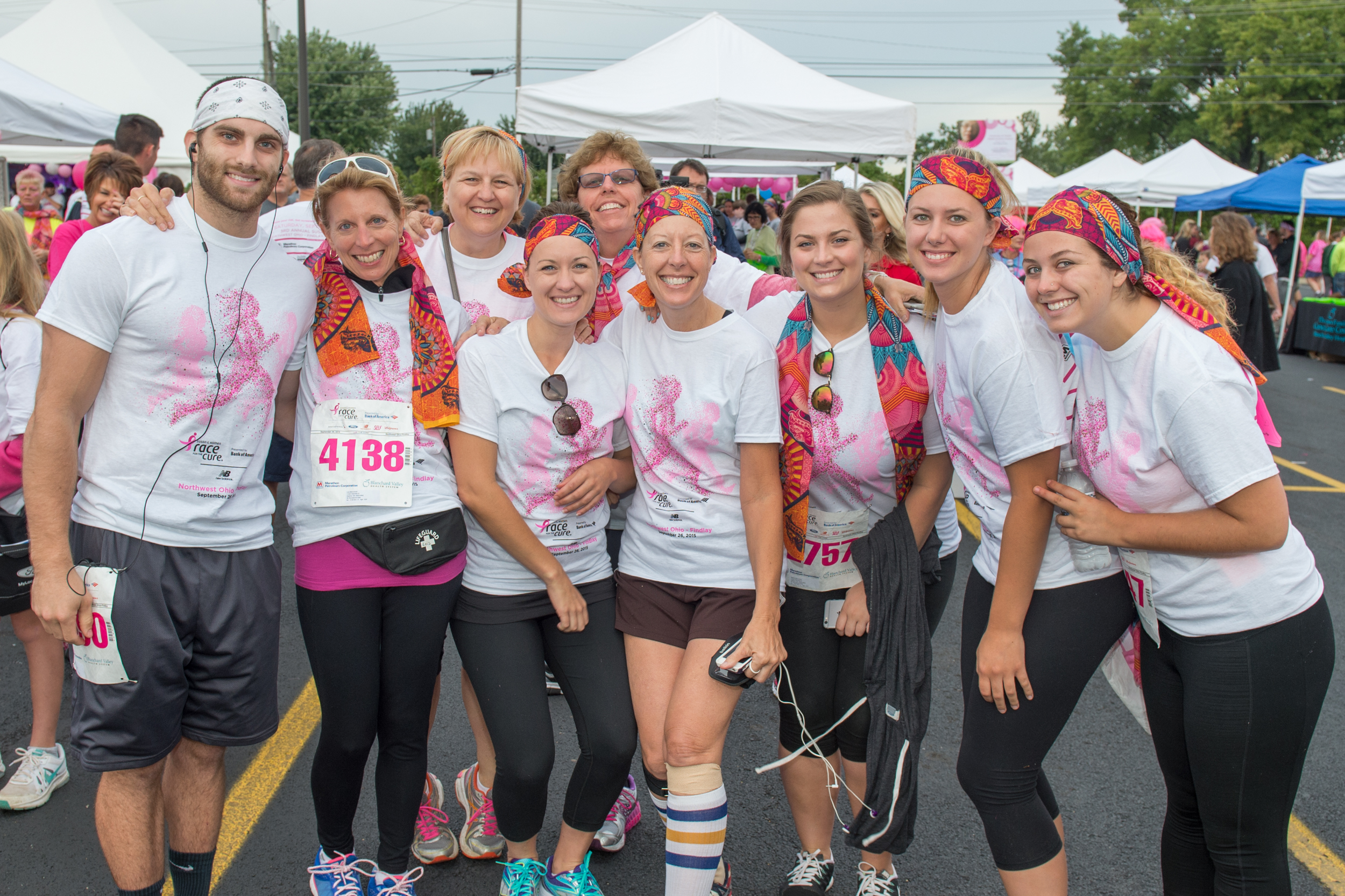 Participating in the Susan G. Komen Northwest Ohio Race for the Cure® with a team increases the fun, the laughter and maybe even the tears you share on Race day.
Did you know that every two minutes a new case of breast cancer is diagnosed in the US? Help us fight back by forming a team in honor or in memory of someone you know impacted or touched by breast cancer. Together you make an even greater impact than you could alone.
Registration:
Susan G. Komen Northwest Ohio Race for the Cure in Findlay
Susan G. Komen Northwest Ohio Race for the Cure in Toledo
Getting Started
Steps to start or join a team today:
Select the team captain: The captain must register first and create the team before members can join.
Choose a team name and team division that best fits your team. During registration, designate whether you're a friends & family, corporate/business school team.
Invite friends, co-workers and family to join you! Email, Facebook or tweet everyone you know and invite them to register to Race with you.
Set up your personal team web page. After you register, log in to your Participant Center to add a photo of your team, set a fundraising goal and tell everyone why you Race for the Cure.
Thanks to our 2015 Race Teams, we were able to grant $54,342.00 toward education, screening and treatment services right here in our community.

Every step you take and every dollar you raise brings us closer to a future without breast cancer. Because you're taking those steps with a team, you're multiplying your impact on the cause.
Team Captain Checklist
Once you've registered your Team, here are some next steps:
Make a self-donation in any denomination to show your commitment
Set a goal for the number of people you will recruit.
Display event materials — brochures and posters — around the office, campus, cafeterias, break rooms, gyms, and other high traffic areas. Put your name, phone number, and/or email address on the posters so people can contact you to get involved.
Host a kickoff meeting or event and invite the Susan G. Komen for the Cure® staff to make a presentation.
Send fundraising tips out to all your team members and highlight the team's top fundraising member.
Create fundraising incentives for your team members encouraging them to meet or exceed their fundraising goals.
Remind team members to log on to their fundraising pages to record all offline donations and send thank-you notes.
Post a progress chart with your fundraising and recruitment goals in a visible area and update totals regularly.
Team Fundraising
Last year, Teams raised more than $54,342.00 for the fight to end breast cancer. That's a huge impact! Team fundraising helps ensure that we will be able to make the biggest impact in the community and continue to fund life-saving grants and programs.
There are two ways that teams can engage in fundraising:
Each team member asks their friends, family members and co-workers to support them in their fundraising efforts by making a donation. Get tips and tools on personal fundraising.
Your team can host a fundraising event. To download a list of fun and easy fundraising events, click here.
Team Awards
Teams are the heart and soul of our Race! By starting a team*, you can bring family, friends and coworkers together to celebrate a survivor in your life, honor the lives of lost loved ones, or simply support a great cause. In addition to receiving some friendly competition, when you start a team you'll receive a team website, entry into team contests, and eligibility for top team rewards.  All members of your team must be registered by Wednesday, September 21 at noon in order to qualify.
*Teams are considered to be groups of 10 or more.
Awards will be give to the largest teams and the top fundraising teams in the following groups:
Company and Corporate
First Time Team
Friends and Family
Healthcare
School/University
REMEMBER: All team members must register for the Race. A team T-shirt does not count as a registration.