Fundraising rewards
As a Komen fundraiser, we know you give your time, passion, and dedication to giving back to your community. We want to show you how much we appreciate your efforts and accomplishments in going the extra mile to make the biggest impact possible in the fight against breast cancer. Fundraising continues though October 31, 2016!
Be among our top fundraisers and receive some fabulous prizes!!
1. One American Airlines ticket
2. One American Airlines ticket
3. Flat Screen TV from the Appliance Center Home Store
4. $1,000 gift card to the Appliance Center Home Store
5. $500 Meijer gift card
Any participant who raises $1,000 or more will be named to the 2017 Komen Northwest Ohio Pink Honor Roll and will receive special prizes including gift cards from some of our generous sponsors and VIP treatment throughout the year.
Think Pink ($250-$499) – Pink Friends rewards plus gift cards or coupons from our local Race Sponsors.
Pink Power ($500-$749) – Think Pink rewards plus an invite to the 2015 Thank You Party for those who have raised the funds by Race Day.
Pink Partners ($750 – $999) – Pink Power rewards plus recognition on website.
Passionately Pink ($1,000+) – Our Pink Honor Roll Members! Pink Partner rewards plus recognition in Promise newsletter, one free Race registration for the 2016 Race and a green bib to wear at Race 2016 recognizing you as a Pink Honor Roll Member.
Passionately Pink Elite (top 3 fundraisers overall) – All rewards of the Passionately Pink plus a special write up about you in our e-newsletter.
Collecting Cash or Check Donations?
Click here to download a mail-in fundraising form.
Mail-in fundraising forms must be received by October 31, 2016 for donations to be credited toward your fundraising goal. Any forms received after that date will be counted as general Race donations. Forms should be mailed to:
Susan G. Komen® Northwest Ohio
3100 W. Central Ave, Suite 235 | Toledo, OH 43606
Participants: Be sure to include your full name and complete contact information on the form so that we may inform you of additional donations received on your behalf. Also on the form – please be sure to list the full names and addresses of people who make donations on your behalf so that we may send them their tax-deductible receipt.
Why Fundraise?
The heart of this event is you, our participants—and we need your help to make the biggest impact possible against this disease. Remember, your registration fee helps us cover the cost of operations at this event, but additional fundraising is how we make an important contribution to our community. Your support will fund breast cancer screening, treatment and education programs that save lives in our community!
Every dollar makes an impact. Thank you for everything you do!
Here are a few things to know and share with everyone…
Up to 75% of Komen's net revenue is used to support local community based education, screening and treatment programs. The remaining 25% of the net income supports the Susan G. Komen® Grants Program
All donations are tax-deductible
Learn more about our local grants program and how we serve our local community
Remember to ask your employer and your donors for Company Matching Gifts
Share your personal story of why you're running or walking to end breast cancer
Learn more about the research Komen does around the globe
How to Fundraise
Fundraising is easy with online fundraising tools! When you registered for the Race you automatically received your own fundraising website which can be personalized. Start now by logging in, and encouraging everyone you know to visit your site, see what you are doing in the fight against breast cancer and make a donation on your behalf.
Susan G. Komen Race for the Cure in Findlay
Susan G. Komen Race for the Cure in Toledo
On your fundraising page, you will find e-mail templates to make sending e-mails to your friends and families as easy as can be! From your fundraising page you, you are able to set up your personal web page, send e-mails to friends, co-workers and connect with friends on Facebook. Be sure to check your fundraising page often for new donations and messages.
Fundraising Tips
Thousands of women and men who could not afford breast health care have received screenings, education and treatments as a result of dollars raised through fundraisers just like you. Join the fight to save lives and end breast cancer forever by committing to a personal fundraising goal today.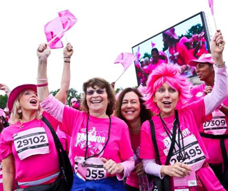 Here are some tips from past top Race Fundraisers.
Set a personal goal today (we suggest $100).
Make the first gift yourself to show your commitment!
Utilize your Fundraising Page. Take advantage of online tools including a customizable web page and email templates to ask friends and family to make a donation to support you.
Spread the word on Social Media.  Don't underestimate the power of Facebook and Twitter.
Partner with your workplace with Matching Gifts. Does your company have a matching gift program?
Send a letter. Reuse your holiday card mailing list.
Download a list of 101 Fundraising Ideas