Findlay Race Day Survivor Activities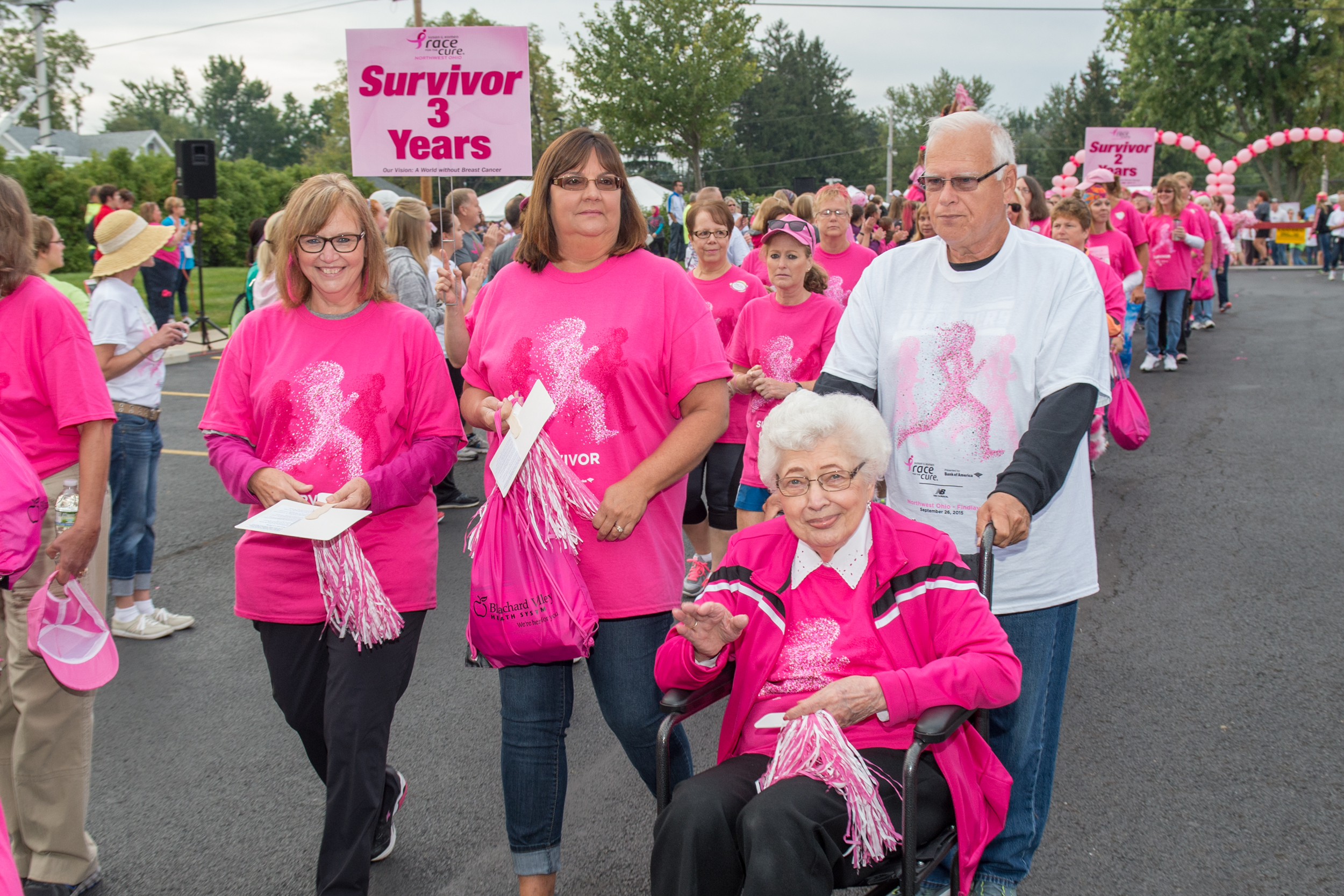 Blanchard Valley Hospital is hosting the 4th Annual Susan G. Komen Race for the Cure Survivor Tent in Findlay, Ohio on Saturday, September 24, 2016. All survivor activities will take place at the southwest parking lot directly behind the hospital.
The Findlay Race for the Cure Survivor Tent is backwith even more pizzaz, gifts, treats, and fun thanks to Blanchard Valley Health System. You will enjoy tons of giveaways, snacks, refreshments, and a special survivor feather boa from Komen!
Schedule:
7:00 am – 7:45 am: Survivors gather at the Survivor tent to pick up welcome gifts
7:00 am – 7:45 am: Zumba demonstration in front of the Survivor area
7:30 am – 11:30am: Survivor Tent sponsored by Blanchard Valley Health System will be open to all survivors and one guest. Both please register.
7:30 am – 11:00 am: Special appearance by Joshua Melton in the Survivor Tent!
7:45 am – 8:00 am: Survivors assemble for group photo on grass area behind Zumba demonstration
8:00 am PROMPTLY: SURVIVOR PHOTO
8:00 am – 8:10 am: Staging for Survivor Parade by years of survival at the corner of Chapel Drive and Highland
8:10 am – 8:30 am: SURVIVOR PARADE- Highland thru hospital parking area and back to Highland Drive
8:20 am – 8:30 am: Survivors recognized at the Main Stage
8:30 am: DOVE RELEASE
8:30am – 9:00 am: Assemble for the Komen 5K race/walk or 1.4 mile family fun walk
8:30am – 11:00am: Yoga demonstration and participation across from Survivor tent
10:30am: Awards ceremony
11:30 am: Conclusion of Survivor Activities
Survivor Parking – Reserved parking will be provided for survivors.  Note location of the survivor reserved parking on the map above.  Access to the reserved parking will be from South Main Street..  Streets will be closing at 7am on the race route.  Parking attendants will be available to direct survivors. To park in the survivor area, one person in the vehicle must have a survivor shirt and or bib.  Wheelchairs, golf carts, and volunteers to assist survivors will be provided.  Please proceed to the Survivor Welcome Area.
Survivor Welcome Area –  This area is located on the east side of the survivor area near the front entrance of the survivor tent. Volunteers will be there to greet survivors and provide pompoms and boas.  After you have received your welcome packet, enjoy the festive atmosphere.  Survivors will be directed to the photo area at 7:45am.
Survivor Photo – The group photo will be taken promptly at 8:00am on grass across from the survivor tent.   This is directly behind where a Zumba demonstration will be held from 7:00am – 7:45am.
Survivor Parade – Survivors will line up at the corner of Chapel Drive and Highland Drive by years of survivor, highest to lowest. The parade will begin promptly at 8:10 am.  The parade will be turn right off of Highland Drive and  head north through the parking area and will conclude at the Main Stage located on the north side of Highland across from the start line.  The survivor parade is less than a half mile.  Survivors who are unable to walk this entire distance may join in the parade at any spot along the route.  Volunteers will also be available to help transport survivors in the parade as needed.  This year our parade will again be led by a young man who is a bagpiper.  He will play Amazing Grace throughout our walk.    Chrys Peterson will welcome and honor all survivors at the Main Street Stage.  The parade will conclude with a beautiful dove release celebrating all survivors and honoring those who have been lost to breast cancer.
Families of Survivors are encouraged to cheer and celebrate all participating survivors in the parade by assembling on both sides of Highland Drive and also in the parking lot area identified for the parade.  Adorned in pink and making noise in celebration of some very special survivors!  We have also placed a few tables and chairs on the east side of the survivor tent for individuals who would like to watch the parade and are unable to travel the parade route.
Survivor Tent – The survivor tent will open @ 7:00 am; however, we want to encourage all survivors to participate in the roup photo and the survivor parade. The survivor tent will remain open until 11:30am.  There are several activities planned for all registered race survivors throughout the morning. The tent is located in the south parking lot of the hospital.  It is a special day to honor our survivors and we plan to do just that with  massages, yoga, tattoos, face painting, survivor gift bags, snapshots in our photo booth, snacks and coffee, and a special drawing of gifts for registered survivors.  There will be limited seating available for survivors so please encourage your friends and family members to wait outside the Survivor tent while you enjoy your Survivor Experience. For those survivors who need assistance…volunteers will be available to help you enjoy all the survivor activities.  You just need to be wearing your survivor t-shirt or survivor bib to join us under the big top!  Survivor snapshot pictures will be available to view on the Northwest Ohio Affiliate of Susan G. Komen Facebook page.   Also, before you leave for the day, make sure you check to see if you have won a door prize to take home with you!
Garden of Hope – This beautiful setting has been designated as the Garden of Hope For All Breast Cancer Warriors.  It is located immediately inside the Survivor area.  We hope that you will enjoy this area to relax, rejoice and rejuvenate throughout the morning. There are outdoor tables and chairs available.  We will have a DJ playing music that will create a very fun and festive atmosphere.
We are truly excited about providing a memorable survivor experience for you and your family and friends.  We look forward to celebrating with you on Saturday, September 24th in Findlay, Ohio.  We are anticipating thousands of participants again this year in the 4th annual Findlay Komen Race for a Cure, so give yourself extra travel and parking time so you can be at the survivor area no later than 7:30 a.m.
Toledo Race Day Survivor Activities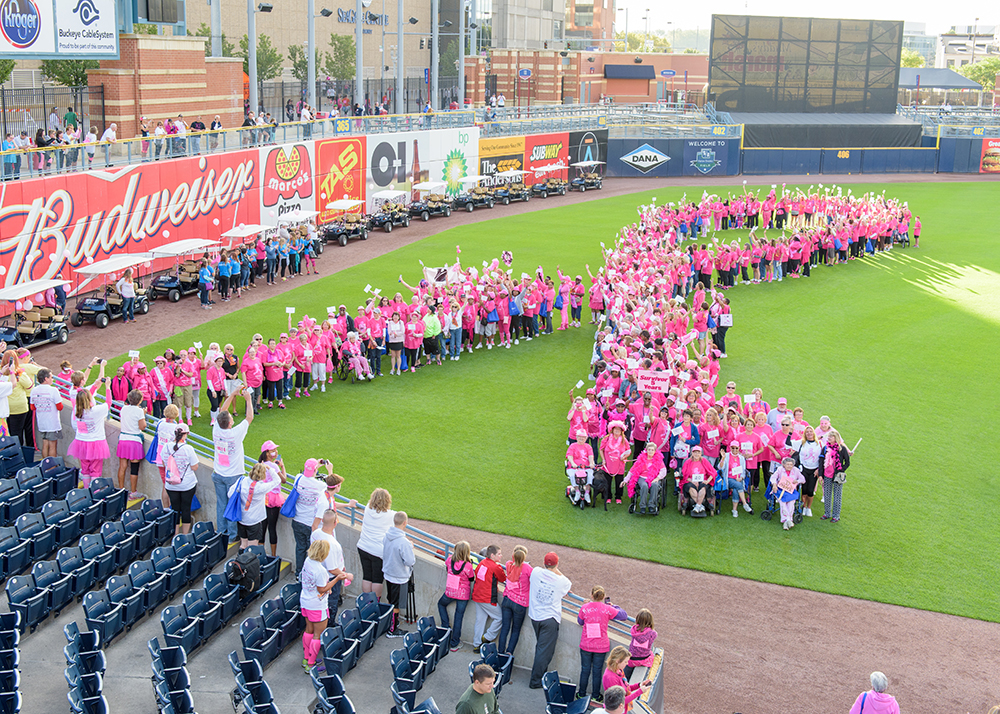 Mercy Health is hosting the 23rd Annual Susan G. Komen Race for the Cure Survivor Tent in Toledo, Ohio on Sunday, September 25, 2016. All survivor activities will take place at Hensville Park (S. St. Clair and Monroe Streets) and on Monroe Street near Summit Street.
This year's survivor tent is Bedazzled and is better than ever thanks to Mercy Health!  
You'll enjoy hundreds of dollars in give aways, a garden seating area, pampering at the pop-up salon featuring pink lips and nails, refreshments, hand massages, and more! You don't want it miss it!
Every survivor will receive a pink boa from Susan G. Komen and a gift from Mercy Health
7:30 am – 9:30 am: Survivors may stop by the registration table
7:00 am – 11:00 am: Survivor Tent sponsored by Mercy Health will be open to all survivors and one guest. Both please register.
7:45 am – 8:00 am: Survivors assemble for group photo at Fifth Third Field
8:00 am PROMPTLY: SURVIVOR RIBBON PHOTO inside Fifth Third Field
8:30 am – 8:45 am: Staging for Survivor Parade by years of survival.
8:45 am: SURVIVOR PARADE down Monroe to Summit
9:00 am: Survivors recognized at the Main Stage
9:00am – 9:30 am: Assemble for the Komen 5K race/walk or 1.4 mile family fun walk
11:00am: Awards ceremony
11:15 am: After party at Hensville