Findlay Race Information
Everything you need to know!
---
Race day schedule
Saturday, Sept. 24, 2016
Race Day Registration: 7:00 – 8:30 a.m. (Race day registration $45)
Local Sponsor Tents: 7:30 – 9:00 a.m.
Survivor Photo: 8:00 a.m.
Survivor Parade: 8:15 a.m. – 8:30 a.m.
Survivor Tent: 7:30 – 11:30 a.m.
5K Race Begins: 9:00 a.m.
    Followed by 5K Walk and 1.4 Mile Family Fun Walk
Race Results: 10:00 a.m.
Medal Distribution and Award Distribution: 10:30 a.m.
Dine Out for the Cure: 11:00 a.m.
---
Course Map
Race starts at Blanchard Valley Hospital Campus: 1900 Chapel Dr. Findlay, OH 45840.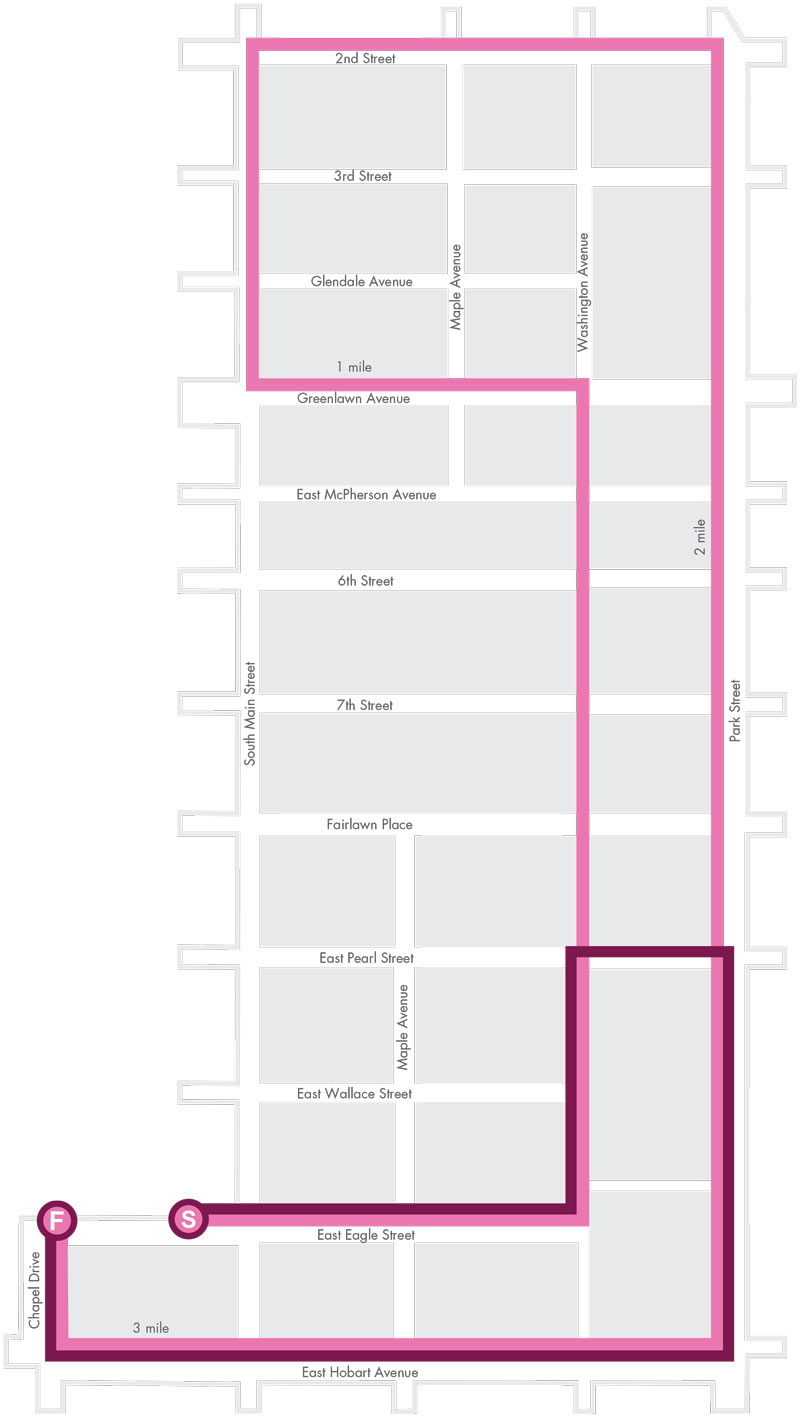 ---
Parking
Parking is available on the street, in several parking lots close to the Blanchard Valley Hospital Campus. Carpooling is encouraged! Please do not rely on GPS instructions, as many streets will be closed for the Race. Find helpful maps indicating participant, survivor, and handicap-accessible parking here: http://bit.ly/RFTCFindlayparking
---
Road Closures
All roads along the race course will close beginning at 7 a.m.
---
Restrooms
Port-o-potties are available at:
Sixth Street between Washington Avenue and Park Street
Blanchard Valley Hospital parking lot on Highland between Chapel Drive and Main Street
Northwest corner of Blanchard Valley Hospital's west parking lot on Chapel Drive.
---
Strollers and Wagons
If you choose to participate with a stroller or wagon, please position yourself behind the walkers.
---
Water Stops
Water will be available at the one-mile marker and the two-mile marker.
---
Team Tailgate
Celebrate before and after the Race at Team Tailgate! Bring coffee and breakfast for pre-Race fun and bring a cooler and a grill for Post-race celebration! Spots are available on a first-come basis. Set up begins at 6:00 a.m. on Race Day, Saturday, Sept. 24. No vehicles will be allowed in the team tailgate area. Contact info@komennwohio.org or call 419-724-2873.
---
Calling all Breast Cancer Survivors!
Come early and participate in the Survivor Photo at 8:00 a.m. and then walk in the Survivor Parade at 8:15 a.m. Before and after that, stop by the Survivor Tent for some coffee and snacks, tons of giveaways, and more!Survivors must wear their pink Survivor Race t-shirt or bib and may bring one registered guest.
Learn more about Survivor activities: http://bit.ly/RFTCSurvivors
---
Register / Packet Pickup
It's time to pick up your T-shirt and race packet!
Dave's Running Shop
Learn where to register and pick up your T-shirt and race packet! http://bit.ly/RFTCPackets
Register online
Online Registration remains open until 4 p.m. on Friday, Sept. 23. Packet pickup at Dave's Running Shop in Findlay, or at the registration area at the Race. Register now: http://bit.ly/NWORFTC
Register at the Race
Sign up at the registration area on the morning of Race! Race-day Registration is $45. Get all the details: http://bit.ly/RFTCINFO
Know someone who can't make it? Tell them about Sleep in for the Cure!
Simply choose Sleep in for the Cure during registration and you can pick up your shirt after race! http://bit.ly/NWORFTC 
---
Donate
If you have donations to drop off, visit the donations tent to make your donation. Please be sure to note who the donations should be credited to (individual fundraiser or fundraising team).
I'm a fundraiser
Learn how access your fundraising page and get a link to send to your friends: http://bit.ly/RFTCFundraiser
I want to donate to a participant or Race team
Find out how to make a donation to a participant, team, or to your own participant page or team: http://bit.ly/RFTC5Steps
I want to make a general donation to the Race
Make a donation here: http://bit.ly/RFTCGeneralDonation
---
Having trouble? Call 419-724-2873.
---
Fundraising Incentives
Be among our top fundraisers for the Komen Northwest Ohio Race for the Cure events and receive pretty sweet rewards! Deadline for fundraising is midnight on Monday, Oct. 31 for Findlay and Toledo!
Raise at least $250 by midnight, Sunday, Sept. 25 to receive an exclusive invitation to the October Thank You Celebration!
Learn more about our exciting incentives for fundraisers: http://bit.ly/RFTCIncentives
---
Where does the money go?
Here's the breakdown of where your race for the cure donations and registration fees go.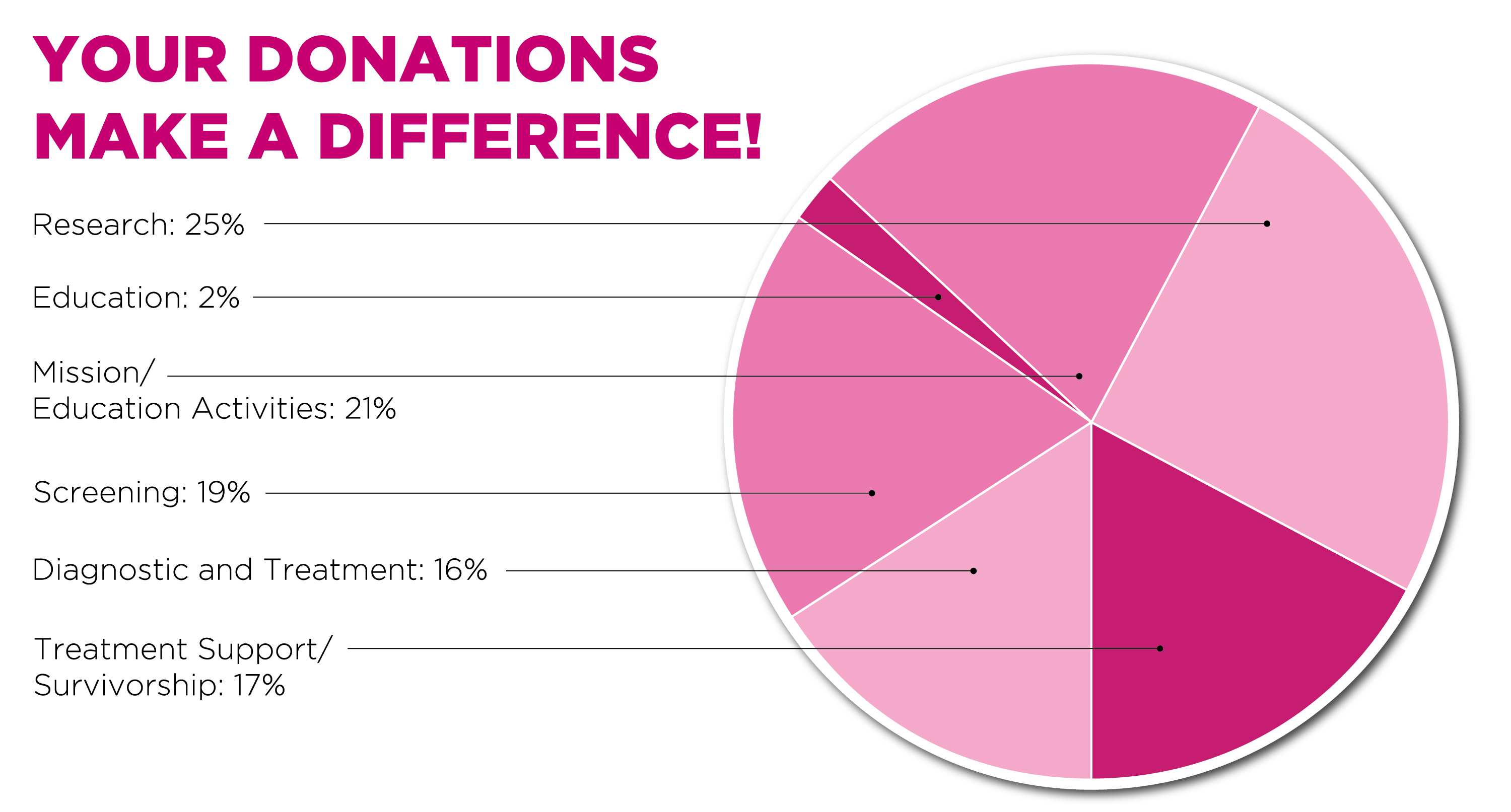 ---
Having any trouble? Call 419-724-2873.
---
Susan G. Komen Race for the Cure in Findlay
Saturday, September 24, 2016
Presented by:


---
If you're already registered, thank you! Want to help? Forward this message to a friend!
Our Vision: A World Without Breast Cancer